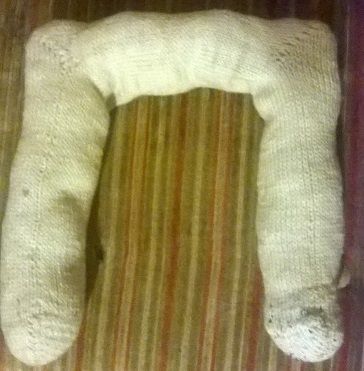 It's finished! I said in the previous post that I was working on a neck pillow. And my inspiration was socks. Introducing the knitted Socks Neck Pillow. It works too. I slept really well (when I slept, I have mouth pain right now) It's so soft, squishy and comfortable. It supports my neck, and no matter which way I turn my head, there's support for it. Sleeping flat on my back in a slightly reclined position is now much more comfortable.
I am also working on a crochet version for all you hookers out there too. I hope to have the pattern out on my Ravelry before Christmas. I debated charging a pittance for it, then discarded that idea. My God-given talents are meant to be shared with whomever wishes to share them. I even debated asking for donations, but no, it will be like my three other patterns, completely free.
As you can see, one end looks slightly different from the other. I was using some old yarn and ran out, so I used some other speckled yarn in a slightly lighter off white to finish off the last five rounds and end cap. It was for me, I could care less if it looks all the same or not. It's comfortable and that's the only thing that counts. I only stuffed it just enough to hold its shape, to keep it squishy, I don't like a hard pillow, and I didn't want to put any strain on the corners. It's perfect though, squishy and supportive.